Latina speaker and author on Green Jobs, Innovation, Latino Leadership, Entrepreneurship, Green Business, Sustainability
Download Author's Speaker Sheet
Graciela Tiscareño-Sato
Ms. Tiscareño-Sato was honored by The White House as a Woman Military Veteran Leader Champion of Change in March 2014, after which her Congressman gave a moving tribute to her life and work on the House floor as seen here.

Ms. Tiscareño-Sato is a bilingual sought-after speaker, Chief Executive Officer of Gracefully Global Group, LLC, the premiere publishing and marketing firm for educational content that showcases positive imagery of Latino Americans.

Graciela's ground-breaking book Latinnovating represents the convergence of her corporate sustainability experience, entrepreneurial drive and her desire to share compelling stories leadership from the Latino community. Graciela's role in the sustainability movement is to inspire a huge wave of environmental entrepreneurs to benefit the planet, by showcasing those doing it today. She previously led the global Green Enterprise Initiative at Munich, Germany-headquartered Siemens Enterprise Networks. There she helped enterprises understand the economic and environmental value of collaboration technologies that dramatically reduced corporations' real estate needs, energy needs, and overall carbon footprints. After that, she served as the first North American Marketing Manager for Israeli solar photovoltaic electronics company SolarEdge, helping them establish a presence in North America in Silicon Valley.

Graciela is a graduate of the School of Environmental Design, University of California at Berkeley, a former military officer and aviator, and an active mentor to Latino youth. She earned a Master degree in International Management from the School of Global Commerce at Whitworth University in Spokane, Washington while on active duty with the U.S. Air Force flying onboard KC-135 refueling jets.

Graciela's been quoted in the New York Times, USA Today and interviewed by NPR, Fox News Latino, CNN en español, Telemundo, Univision and many other national media organizations. Graciela has been honored by LATINA Style Magazine as the San Francisco Bay Area and National "Entrepreneur of the Year." She lives in the San Francisco east bay with her husband Genro (who she met at Cal in the trombone section of the marching band) and their three children. Her oldest child, Milagro, is a teenager who is blind and hearing impaired, which caused Graciela to also become a disability rights advocate (and bilingual conference speaker) as Milagro's mother.
Published works include:
Book: When I Was There: Life at Berkeley 1960-2010; (Published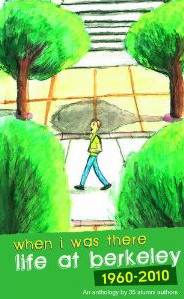 May 2010. An Anthology of Cal Alumni Authors)
From the 1960s to the 21st century, this anthology contains personal stories of life as a Cal student: heart-warming, heart wrenching, and humorous. Incoming freshman, students, and alumni get to see Cal as it was and as it is today. Written entirely by Cal alumni authors, part-nostalgic, part-pride, and part wonderment, When I Was There celebrates the many facets of the UC Berkeley experience. (Note: My essay begins with "Ever wonder what the inside of the Stanford tree smells like?" It's titled "Inhaling the Stanford Tree" and yes, it's based on a true story of the "borrowing" of the tree one spring day......)
"American Latinos Greening the Nation", Environmental Leader, March 4, 2010
"The Greening of America: Hispanic Environmental Advocates Take the Lead", Hispanic MBA Magazine, October 2009. Read me.
"Why Latinos Love (and Hate) New Business Technologies", Hispanic MBA, Fall 2008
"Exploring the Vast Variety of Careers in Marketing", National Society of Hispanic MBAs National Newsletter (The Bottom Line). February 2008
"NSHMBA National Board Spends Day at eBay Headquarters in San Jose: Witnesses Successful L.E.A.D. Conference", National Society of Hispanic MBAs National Newsletter (The Bottom Line). October/November 2006 (Two-part piece).
Communications Trade Press
"The Gopher Effect: Improve Agent Retention and First-Call Resolution: Leverage a services-oriented architecture in the contact center." destinationCRM.com. February 25, 2009.
"While Parts of Athens Burned, Unified Communications Moved Forward in Greece", UCStrategies.com, January 15, 2009.
"Leveraging Web Services to Boost First Contact Resolution", SOA World Magazine, November 20, 2008.
"The Right Balance", Enterprise Technology Management, Q4 2008. Print and online.
"Another Reason to Deploy Unified Communications in 2008: Harnessing the Skills of Generation Y." TMCNet. January 18, 2008.
"Unified Communications are Uniting the Globe" July 11, 2007. TMCNet.
"How Unified Communications Systems Enable Professionals to Balance Work and Life". TMCNet, March 8th, 2006.
"VoIP Assists Global Training" (customer case study). Sept 2005. Communications News (Co-wrote PR pitch)
"Enterprise IT: Friend or Foe of Unified Communications?". Internet Telephony Magazine. July 2005.
Expert Opinion. Monthly Enterprise Competitor Analysis Review. April 2006.
A complete listing of all publications is available at the author's website: www.gracetiscareno-sato.com.
---